Permanent quality control
In our quality laboratory we run tests and checks on our products with continuous monitoring to ensure the end product meets the highest quality standards.
We also train our staff to perform their duties effectively and we lay on the resources they need to meet management deliverables.
We partner with European notified bodies such as: AITEX, LEITAT, CTC, SATRA, INSPEC and CENTEXBEL.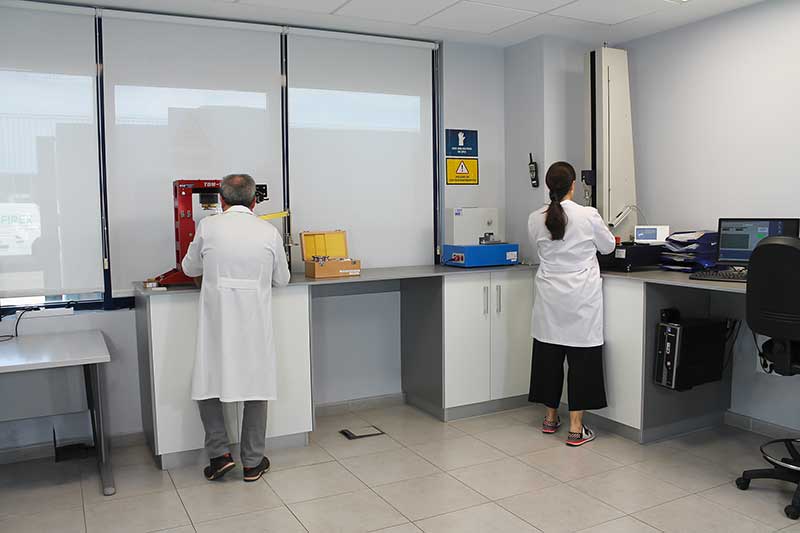 Proprietary laboratory
Although at Juba we undergo regular external audits to ensure our processes and products, we also have our own laboratory equipped with approved technology. Here we test all our gloves to meet the highest quality standards.
We check their resistance to abrasion, cutting, tearing and perforation and perform regular chromium checks.
Chromium checks
for leather gloves
Ensuring our processes
The twenty-first century has seen the international certification of our processes. We ushered it in by implementing quality management and certified our environmental management in 2012. We recently pushed further and put a health and safety management system into action.
QUALITY MANAGEMENT
ISO 9001 STANDARD
ENVIRONMENTAL MANAGEMENT
ISO 14001
OCCUPATIONAL HEALTH AND SAFETY MANAGEMENT
ISO 45001:2018
Quality policies
The Juba management-system policy considers all the activities needed to ensure that the different processes comply at all times with customer requirements and laws on quality, environment and health and safety at work. All the products we sell are approved in accordance with the corresponding legal regulations and the strict internal requirements of our Quality Management System.