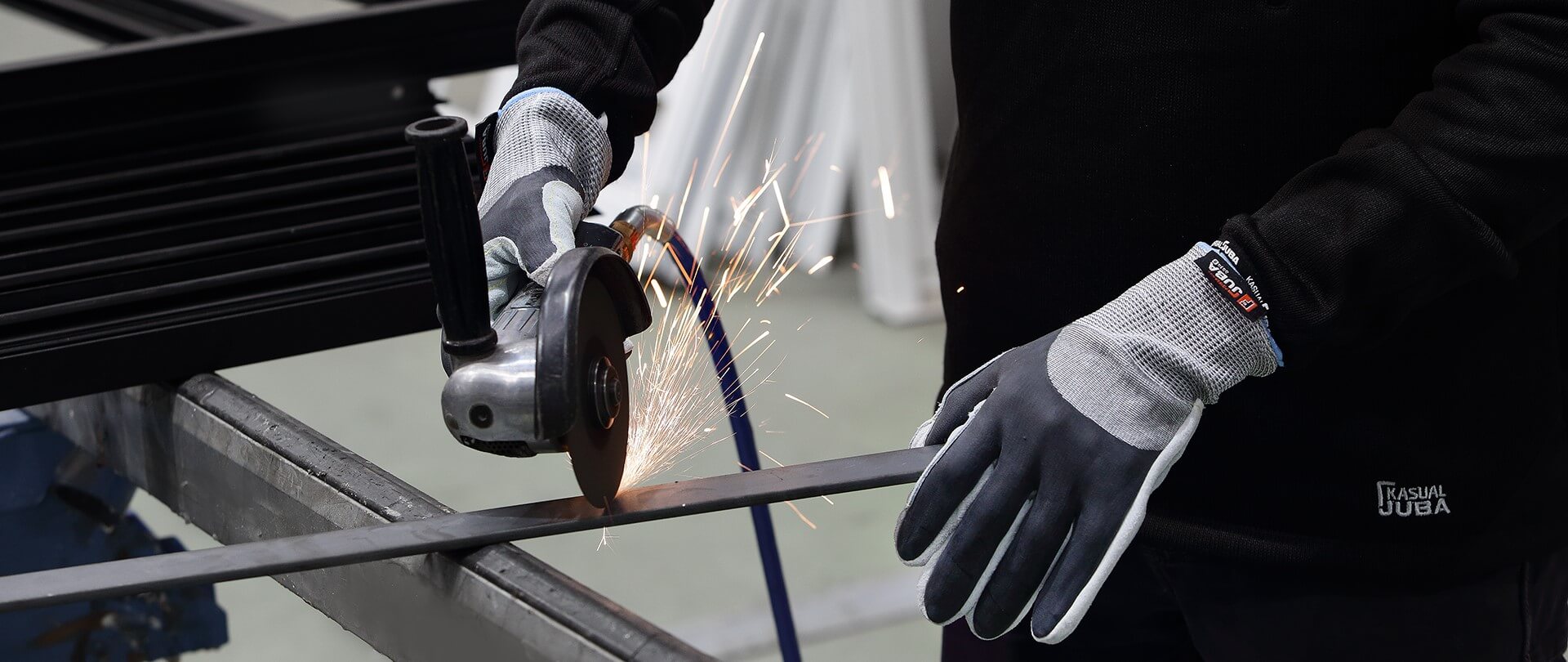 Working gloves
In Juba we have more than 400 work gloves to prevent thermal, mechanical, chemical, electrical risks, cutting risks, welding sparks... that a worker can find in his workplace.
To facilitate the search for the most suitable glove we have created a system of filters that you can combine and that can help you narrow your search according to the work environment, the regulations, the coating material or the type of glove.
Work gloves by type of use or risk
JUBA SSP
Is a custom tool to help businesses choose the best hand and arm protection solution
Find your JUBA Glove
There are different ways to find the most suitable glove for your hands.
News
Find out all the new stuff we've got for you.
Technologies used in our work gloves
Guantes para trabajar en cualquier sector
Las manos son la parte del cuerpo humano que más accidentes laborales sufre por causas tan diversas como las imprudencias, el uso incorrecto de los equipos de protección, el mal estado de la maquinaria o el desconocimiento.
La elección de los mejores guantes para trabajar dependerá de muchos factores, sobre todo habrá que valorar cuál es el sector profesional en el que se van a utilizar, las condiciones laborales del trabajador y, entre otras cosas, las tareas a realizar, así como del entorno y las sustancias que deban manipularse.
La mayoría de los guantes para trabajar están considerados Equipos de Protección Individual (EPIs), por lo que deben tener unas características de calidad y unos requisitos técnicos muy específicos.
Tipos de guantes de trabajo
Los guantes de protección son una parte muy importante del vestuario laboral puesto que se encargan de proteger las manos de los trabajadores ante los riesgos a los que están expuestos a diario. Al igual que cada profesión consiste en una actividad, los guantes también se diferencian en función del entorno laboral, pero hay otros requisitos para esa clasificación como la normativa vigente, el material del recubrimiento, el tipo de soporte necesario o el tipo de guante. Entre esas opciones de guantes se pueden distinguir:
Uso de guantes de seguridad en el trabajo
Juba dispone de un catálogo con más de 500 referencias de guantes de seguridad laboral, desde guantes para trabajos más específicos, como los usados en industrias químicas hasta guantes desechables para sanidad o para la industria de la alimentación.
Los mejores guantes de trabajo
Aquellos profesionales que deben usar guantes en el trabajo deben asegurarse su comodidad y seguridad por lo que deberán tener muy en cuenta la talla para que los guantes se adapten a sus manos. Juba dispone de todo tipo de guantes de seguridad laboral desde tallas especiales, además de diferentes materiales para cualquier usuario o necesidad, entre otros:
Sin embargo, los mejores guantes de trabajo son aquellos que más se adaptan a las necesidades de cada puesto y, por supuesto, a las manos de cada profesional.
Cómo se usan los guantes de trabajo
Los profesionales se exponen con frecuencia a diferentes riesgos por lo que sea cual sea el material con el que están fabricados los guantes de trabajo, hay que comprobar su estado. Entre otros aspectos, se debe revisar con cierta periodicidad cómo se están usando esos guantes, si mantienen su estado original y si son los más adecuados para ese trabajo.
La fecha de caducidad será obligatoria de cumplir en los guantes dieléctricos, mientras que en los de protección química deberá regularse su uso con un calendario a fin de garantizar que se cambien antes de ser permeados.
¡Encuentra los guantes de trabajo que tus manos necesitan para un trabajo seguro!
Ver más