Glove Ninja - NR00
HPPE glove mixed with Kevlar® and elastane coating with nitrile foam on palm and anti-impact TPR reinforcements on back.
Standards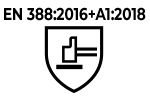 4X42FP

X1XXXX
HIGHLIGHTS


Characteristics
NFT nitrile reinforcement between index and thumb for greater resistance to abrasion.
Compatible for touch screens.
Superior grip in oily, dry and wet environments.
NFT nitrile coating that provides 360º breathability.
Maximum cut resistance level – Level F.
Resistant to contact heat (100º C for 15").
18 gauge as thin as a second skin.
Certified for impact protection.
The Sanitized® hygiene function protects gloves from the formation of fungi, mites and bacteria, prevent odors, provides long-lasting material protection to polymers and minimize skin irritation.
Working gloves suitable for:
Glass handling.
Automobile industry.
Metallurgical industry.
Garbage and waste collection.
Risk of shocks on the back.
More information
Materials
Thick
Long
Sizes
Packaging
Nitrile
Gauge 18
M - 24 cm
L - 25 cm
XL - 27 cm
XXL - 28 cm
8/M
9/L
10/XL
11/XXL
6 Pairs/package
72 Pairs/box