Glove Juba - H259WT FEEL & GRIP WINTER
Seamless polyester glove with double latex coating on palm and thumb with inner lining.
Standards


041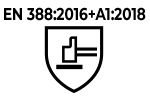 2342X

X2XXXX

HIGHLIGHTS

Detalles
Specifications
Glove type:
Coating
Textile
Cold
Heat
Retail
Standard:
EN 388:2016
EN 407:2020
EN 511:2006
EN 388:2016
EN 407 Standard
Resistance to contact heat:
Resistance to convective heat:
Resistance to radiating heat:
Resistance to large splashes of molten metal:
EN 511 Standard
Resistance to convective cooling:
Resistance to contact cooling:
Characteristics
Solid grip in dry and wet environments.
Fully coated for greater tightness, the first layer of watertight latex and the second layer of sandy latex that provides excellent grip in wet and dry environments.
Good abrasion and puncture resistance, increased durability.
Fully covered thumb for additional protection in an area exposed to bumps and cuts (15% of cutting accidents occur in this area).
Inner lining of terry cotton that helps to keep the temperature of the hands stable in cold environments (up to 0ºC).
Working gloves suitable for:
Construction and masonry.
Agricultural work and gardening.
Industrial assembly.
Outdoor maintenance.
Outdoor work with cold temperatures up to 0ºC.
More information
Materials
Thick
Long
Sizes
Packaging
Latex
Gauge 15
S - 23 cm
M - 24 cm
L - 25 cm
XL - 26 cm
XXL - 27 cm
7/S
8/M
9/L
10/XL
11/XXL
6 Pairs/package
72 Pairs/box