Standards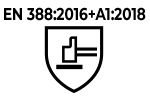 4142B

HIGHLIGHTS

Detalles
Specifications
Standard:
EN ISO 10819:2013 + A1:2019
EN 388:2016
EN 388:2016
Characteristics
Seamless lined glove.
Dark colour for dirtier environments.
Excellent abrasion and tear resistance level.
Foam Latex reinforcement on palm designed to reduce the effects of impacts and vibrations.
Certified under EN ISO 10819:2013+A1:2019 for mechanical vibrations and shocks.
Working gloves suitable for:
Pneumatic hammer.
Deburring hammer.
High power hammers.
Manual grinder.
Chain saw.
Portable grinding wheels.
Grinding wheels on pedestal.
Vibrating shaker.
Asphalt drills.
Impact wrenches and pistons.
More information
Materials
Color
Thick
Long
Sizes
Packaging
Latex
Black
Gauge 7
M - 24 cm
L - 25 cm
XL - 26 cm
XXL - 27 cm
8/M
9/L
10/XL
11/XXL
5 Pairs/package
50 Pairs/box