Glove Towa - 566TH ACTIVGRIP SERIES
Microfinish® nitrile fully coated gauntle with double inner lining.
Standards


121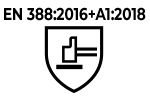 4231X

X2XXXX
HIGHLIGHTS

Detalles
Specifications
Standard:
EN 388:2016
EN 407:2020
EN 511:2006
EN 511 Standard
Resistance to convective cooling:
Resistance to contact cooling:
Characteristics
Great ergonomy and outstanding thermal insulation in applications that require cold and heat protection thanks to its thick double inner liner.
Microfinish® technology offers excellent grip in splippery and humid surfaces as its microscopic pockets disperse fluids.
Fully coated to achieve high impermeabilty.
Sanitized® hygienic function protects gloves from fungi and microrganisms and bad odor while supports material protection for polymers.
13 gauge Polyester. 7 gauge napped acrylic.
Working gloves suitable for:
Industrial cleaning and maintenance.
Agricultura.
Fishing industry.
Automotive.
Oily surfaces handling.
Paint industry.
More information
Materials
Thick
Long
Sizes
Packaging
Nitrile
Gauge 13
M - 30 cm
L - 30 cm
XL - 30 cm
8/M
9/L
10/XL
6 Pairs/package
72 Pairs/box