Standards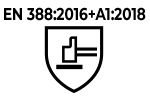 3121X

X1XXXX
HIGHLIGHTS


Detalles
Specifications
Environment:
Oily
Dry
Wet
Tactile screens
Standard:
EN 407:2020
EN 388:2016
EN 388:2016
Characteristics
It offers great flexibility and comfort.
Reinforcement between thumb and index finger that provides greater resistance to wear and tear.
Fully coated with a first layer of flat nitrile and second layer of sandy nitrile on the palm that provides greater grip in dry, wet and oily environments.
Nitrile offers greater grip and durability in oil than any other coating.
Contact heat resistant, 100º C for 15 seconds.
Excellent abrasion resistance, increased durability. Suitable for touch devices.
Working gloves suitable for:
General handling without cutting risk in mostly dry, wet or oily conditions.
Light assembly work.
Maintenance and installations.
General mechanical maintenance.
Automotive.
Wood industry.
Harvesting of agricultural products.
Work in which the use of touch terminals is required.
More information
Materials
Color
Thick
Long
Sizes
Packaging
Nitrile
Black
Gauge 15
XS - 22 cm
S - 23 cm
M - 24 cm
L - 25 cm
XL - 26 cm
XXL - 27 cm
6/XS
7/S
8/M
9/L
10/XL
11/XXL
12 Pairs/package
120 Pairs/box