Standards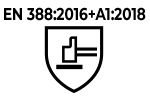 4121X

X1XXXX
HIGHLIGHTS

Characteristics
Seamless liner that provides comfort and touch.
Fully coated, made with a first layer of flat nitrile and a second layer of sandy nitrile that provides excellent grip in wet, dry and slightly oily environments.
Double nitrile coating that provides maximum resistance to abrasion, greater durability and impermeability.
Working gloves suitable for:
Construction.
Maintenance and facilities.
Cleaning services.
Mechanical workshop.
Assembly of metal parts without risk of cutting.
Machining of parts.
Handling of oiled parts.
More information
Materials
Color
Thick
Long
Sizes
Packaging
Nitrile
Black
Gauge 15
XS - 22 cm
S - 23 cm
M - 24 cm
L - 25 cm
XL - 26 cm
XXL - 27 cm
6/XS
7/S
8/M
9/L
10/XL
11/XXL
12 Pairs/package
120 Pairs/box