Glove Juba - 5112 AGILITY DOTS
Nylon®/Lycra® shell with ultralite nitrile foam coating on palm and fingers. Nitrile dots on palm.
Standards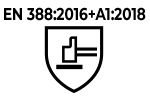 4121X

X1XXXX
HIGHLIGHTS



Characteristics
Light, flexible and breathable.
Nitrile dots finish to improve grip.
Nitrile provides good mechanical performance.
Resistant to contact heat (100ºC for 15").
Available with recycled individual blister for point of sale (H5112).
Working gloves suitable for:
Automotive.
Automotive and repair shops.
Furniture assembly.
Precise maintenance and assembly.
Logistics and warehouses.
Metallurgy.
More information
Materials
Color
Thick
Long
Sizes
Packaging
Nitrile
Red / Black
Gauge 13
XS - 22 cm
S - 23 cm
M - 24 cm
L - 25 cm
XL - 26 cm
XXL - 27 cm
6/XS
7/S
8/M
9/L
10/XL
11/XXL
10 Pairs/package
120 Pairs/box