Glove K-rock - 4540RF
Cut resistant glove that incorporates the K-Rock textile fibre, Juba's new cut resistant technology mixed with glass and steel fiber, nylon® and elastane, with polyurethane coating on palm
Standards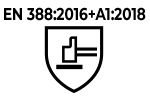 3X42D
HIGHLIGHTS

Characteristics
Seamless glove with K-ROCK® technology and gauge 18 that offer touch, lightness, flexibility and comfort.
Nitrile reinforcement between thumb and index finger that provides greater resistance to wear and tear.
Fresh feeling thanks to its breathability.
It offers a great touch and excellent grip on dry and slightly damp surfaces.
Suitable for use with touch devices.
Working gloves suitable for:
Handling of objects with medium/high cut hazard in both dry and damp conditions.
Good feel so suitable for mechanical work.
Automotive industry.
Aeronautical industry.
Installation and maintenance work.
Assembly lines and sub-assemblies.
Carpentry work
More information
Materials
Color
Thick
Long
Sizes
Packaging
Poliuretano ( Pu )
Grey
Gauge 18
XS - 22 cm
S - 23 cm
M - 24 cm
L - 25 cm
XL - 26 cm
XXL - 27 cm
6/XS
7/S
8/M
9/L
10/XL
11/XXL
12 Pairs/package
120 Pairs/box