Standards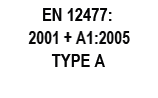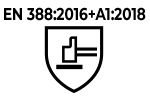 3233X

41324X
Detalles
Specifications
Standard:
EN 388:2016
EN 407:2020
EN 12477:2001 + A1:2005 TYPE A
EN 407 Standard
Resistance to contact heat:
Resistance to convective heat:
Resistance to radiating heat:
Resistance to large splashes of molten metal:
Characteristics
Economic version.
Heat resistant by contact (100ºC for 15 seconds).
Excellent behavior to flame and small molten metal splashes.
Very comfortable thanks to its inner cotton lining on the palm and back.
Sewn with Kevlar® yarn for durability.
Protected seams.
Complies with EN12477: 2001 + A1: 2005 standard for protective gloves for type A welders.
Working gloves suitable for:
Low aggressive welding work.
Maintenance work in general
Mechanical work.
More information
Materials
Color
Thick
Long
Sizes
Packaging
Leather
Red
1.10 mm
XL - 34 cm
10/XL
12 Pairs/package
60 Pairs/box