Glove Juba - 404ARPCBKW TUFF JUBA
Double split leather palm and forefinger with canvas back with elasticated cuff.
Standards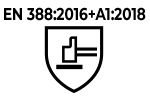 3144C
HIGHLIGHTS

Features
Durability and safety.
Good protection from cuts and abrasion due to its thick design.
Flexible.
Lining on the palm.
Premium split leather series.
Elastic cuff.
Uses
Sheet metal handling.
Naval steel industry.
Automotive.
Works requiring cut protection on the palm.
More information
Materials
Color
Thick
Long
Sizes
Packaging
Leather
Grey / Green
2.00 mm
L - 25 cm
XL - 26 cm
9/L
10/XL
12 Pairs/package
72 Pairs/box