Standards


X1X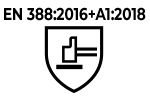 1131X
Detalles
Specifications
Standard:
EN 388:2016
EN 511:2006
EN 388:2016
EN 511 Standard
Resistance to convective cooling:
Resistance to contact cooling:
Characteristics
13 gauge seamless glove with an ergonomic design that ensures great comfort and maximum fit, reducing hand fatigue.
Double latex coating: a first latex layer that covers it in its entirety, and a second Microfinish® latex layer that covers the palm and thumb.
Solid grip in dry and wet environments thanks to Microfinish® technology (suction cups that disperse liquids).
The lining has been designed to repel water and keep hands dry even in situations with rain, snow or other adverse environments, letting the hand perspire.
Fully coated thumb for additional protection in an area exposed to bumps and cuts (15% of cutting accidents occur in this area).
Provides great warmth. The fine fleece lining provides incredible warmth and an unbeatable feeling, it maintains the temperature of the hands in cold environments (0ºC).
Working gloves suitable for:
Automotive.
Assembly.
Machinery operations.
Maintenance.
Logistics and warehouses.
Outdoor work.
More information
Materials
Color
Thick
Long
Sizes
Packaging
Latex
Orange Fluorine / Dark Brown
Gauge 13
S - 23 cm
M - 24 cm
L - 25 cm
XL - 26 cm
XXL - 27 cm
7/S
8/M
9/L
10/XL
11/XXL
12 Pairs/package
72 Pairs/box