Standards


41334X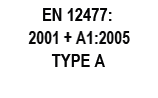 3244X
Detalles
Specifications
Standard:
EN 388:2016
EN 407:2004
EN 12477:2001 + A1:2005 TYPE A
EN 407 Standard
Resistance to contact heat:
Resistance to convective heat:
Resistance to radiating heat:
Resistance to large splashes of molten metal:
Features
Fireproof split leather: 1,5 to 2,5 mm thick.
Appropriate series for contact heat and convective heat.
Excellent tactility and durability.
Sewn with Kevlar thread; cut and spark resistant.
Forearm safety cuff. Up to 60 sec at 100ºC.
Meet welding works requirements.
Working gloves suitable for:
Furnace mouths.
Ceramics.
Boiler shop.
Iron and steel industry.
Foundry.
Metal mounts.
Plastic industry.
More information
Materials
Color
Thick
Long
Sizes
Packaging
Leather
Brown Green
1.2-1.4 mm
XL - 38 cm
10/XL
5 Pairs/package
30 Pairs/box