Standards


41324X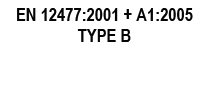 2111X
Detalles
Specifications
Standard:
EN 407:2004
EN 12477:2001 + A1:2005 TYPE B
EN 388:2003
EN 388:2016
EN 407 Standard
Resistance to contact heat:
Resistance to convective heat:
Resistance to radiating heat:
Resistance to large splashes of molten metal:
features
Grain cowhide palm provides excellent tactility and water-repellent properties.
Sewn with Kevlar® thread.
Stands up to 32 sec at 100ºC.
Durable and comfortable wearing.
Long safety cuff for forearm protection.
Supplied with musket.
Meets specific Class A standards for welding works.
More information
Materials
Color
Thick
Long
Sizes
Packaging
Leather
Yellow / Brown
1.10 mm
S - 31 cm
M - 32 cm
L - 33 cm
XL - 34 cm
XXL - 35 cm
6/XS
7/S
8/M
9/L
10/XL
11/XXL
12/3XL
10 Pairs/package
60 Pairs/box