Glove Juba - 5235CC
Cut & sewn polyester/cotton knitted jersey liner with non-woven polyester felt, full coated with nitrile
Standards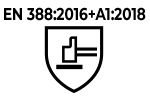 3232C

X2XXXX

HIGHLIGHTS

Characteristics
Great protection against contact heat (250ºC for 15").
Excellent grip on dry and oily surfaces.
Good resistance to abrasion and tearing.
Very comfortable thanks to the sweat absorbent non-woven felt lining.
Easy to remove and put on.
Working gloves suitable for:
Intermittent handling of hot products up to 250ºC.
Handling hot parts with moderate risk of cutting.
Automotive.
Flat glass industry.
Ceramic industry.
Light welding and hot metal handling.
Demoulding of hot parts.
Plastic and rubber injection.
Injection of light alloys.
More information
Materials
Color
Long
Sizes
Packaging
Nitrile
Grey
L - 35 cm
XL - 35 cm
9/L
10/XL
12 Pairs/package
72 Pairs/box