Standards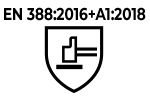 2X43D

HIGHLIGHTS


Characteristics
Dyneema® fiber is a high technology product that guarantees the maximum and long lasting protection to cut and abrasion.
Its flexibility, lightweight and coolness made this glove being far more comfortable than others, with the highest level of comfort and breathability for the end user.
Ambidextrous.
Supplied by units together with a cotton liner to prevent from dirtiness.
For better protection, other gloves can be used underneath.
Suitable for alimentary use.
Uses
Food industries.
Timber, pulp and paper industries.
Glass sector.
Abrasive and sharp materials handling.
More information
Color
Thick
Long
Sizes
Packaging
Blue
Gauge 10
M - 34 cm
XL - 38 cm
XXL - 39 cm
8/M
10/XL
11/XXL
12 Pairs/package
144 Pairs/box