Standards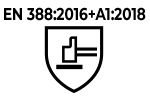 4131X

HIGHLIGHTS

Characteristics
Comfortable and dexterity.
The quality of its components makes it comfortable and flexible.
Fully coated glove (the first layer of flat nitrile is incorporated with a second layer of sandy nitrile) offering an excellent grip in dry, wet, and oily environments.
Good resistance to abrasion, greater durability.
Suitable for food contact.
Working gloves suitable for:
Collection of products in agriculture.
Food packaging.
Maintenance in the food industry.
Construction and maintenance of machinery.
More information
Materials
Color
Thick
Long
Sizes
Packaging
Nitrile
Sky Blue
Gauge 15
XS - 22 cm
S - 23 cm
M - 24 cm
L - 25 cm
XL - 26 cm
XXL - 27 cm
6/XS
7/S
8/M
9/L
10/XL
11/XXL
10 Pairs/package
120 Pairs/box