M150 STEELGEN
Reusable hygienic mask, made of a single layer of 100% PPE fabric of 150 gr/m², with antistatic properties, bactericides and permanent fungicides.
HIGHLIGHTS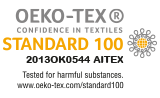 Description
A SINGLE LAYER fabric of 100% PPE antiviral, lint-free and permanently antibacterial (0% Cotton, 0% Hydrophilic Fibers).
Dissipative material for electrostatic charges.
HYPOALLERGENIC and permanent FUNGICIDE fabric, prevents skin problems, facilitating continued use.
Low moisture absorption and VERY FAST DRYING, keeps the skin dry, prevents ulcers and other skin conditions.
Maintains the natural body temperature.
ANTI-PILLING. Does not attract dust or absorb stains.
BREATHABLE, can be USED WITH MEDIUM / HIGH ACTIVITY LEVELS.
Does not lose the original color during its useful life.
100% RECYCLABLE and sustainable.
REUSABLE.
Composition
Reusable hygienic mask, made with a single layer of 100% PPE fabric of 150 g / m², with permanent antistatic, bactericidal and fungicidal properties.
Washable between 40º and 60º C (up to 50 washes) and can be treated with bleach or other bleaching products.
Tested in AITEX (notified body nº 0161) according to the requirements of the UNE 0065 reusable hygienic mask. EN14683 Bacterial barrier of 93.38% (BFE) and EN14683 Breathability 32.6% Pa/cm².
Made in Spain.